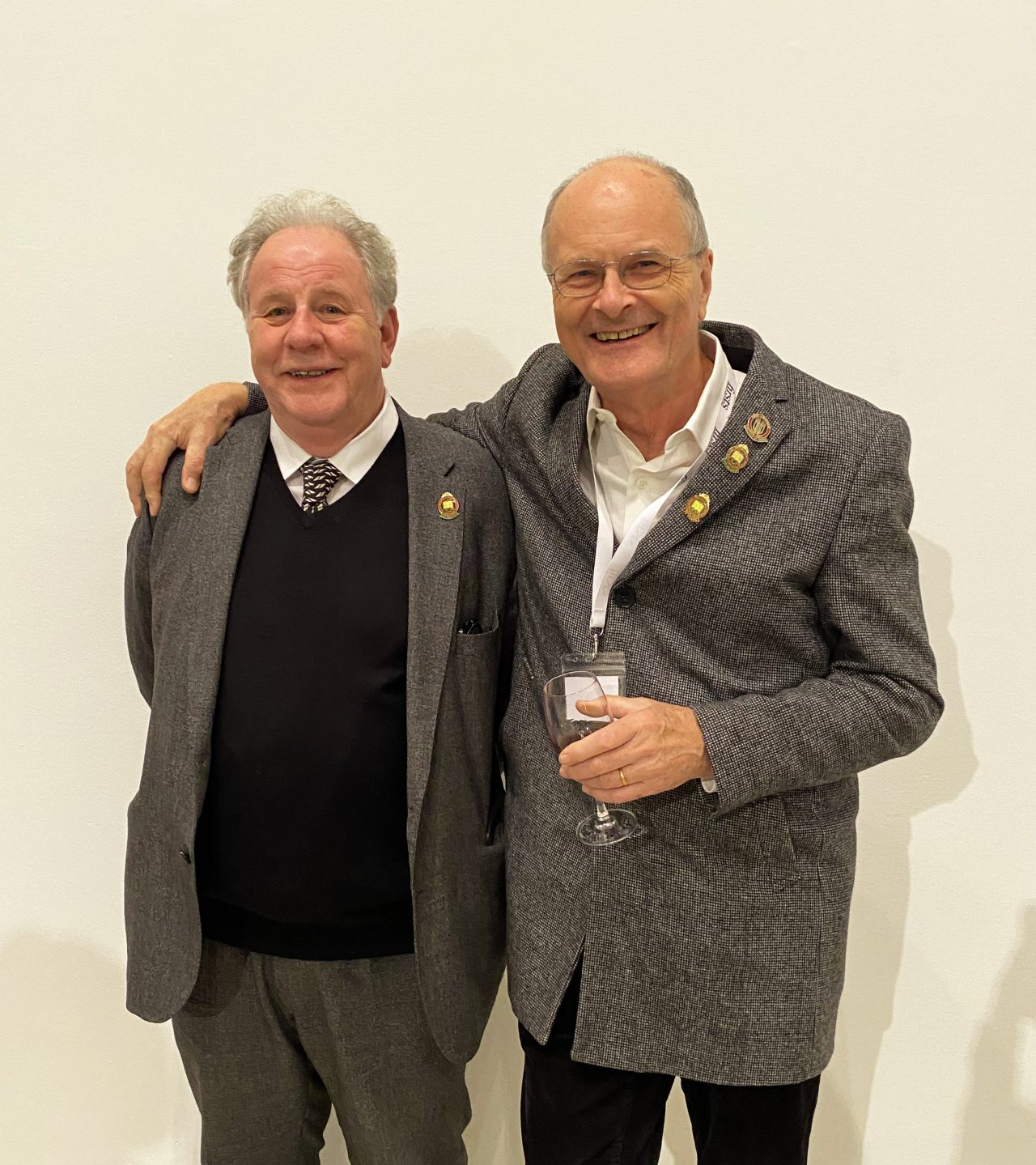 The 64th edition of Firsts, London's Rare Book Fair came to a close on Sunday 24th October following the event, with exhibitors and the fair organisers in a positive mood, having reported great attendance across the fair's four days at Saatchi Gallery.

Alongside the fair, exhibitors and ABA members gathered for a private reception on Saturday evening in Saatchi Gallery to listen to welcoming remarks by ABA President and Fair Chairman, Pom Harrington.
Speaking at the event, Pom highlighted the difficult year the association had had, and thanked all overseas visitors and exhibitors for coming to the fair and persevering. On the move to Saatchi Gallery, Pom commented on the event's success at its new venue, "What a pleasant surprise, I think it is safe to say our expectations have been exceeded", and equally on the very positive feedback from all exhibitors.
The evening reception was also a time for our current ABA President to award several members with ABA honours, marking the first time in almost two years our booksellers were able to meet each other in person.
Firstly, Roger Treglown was presented his Immediate Past-President pin, having held the position at the association from 2019-2021. On receiving the award, Roger remarked on the "very difficult year" but "through persevering and support, and we have to thank the membership, we have come through with flying colours and we are all here united again, bringing the ABA closer together in this wonderful venue".
Equally, two ABA members were awarded their '50 Years a Bookseller' pins: Laurence Worms of Ash Rare Books and Adrian Harrington of Adrian Harrington Rare Books.
Upon awarding Laurence his pin, Pom praised him for having "contributed greatly to council over the years, in particular our rules and providing clarity to our standards as to what we require as booksellers."
Member Adrian Harrington on receiving his pin, remarked on the of fond times as a young bookseller with brother Peter Harrington along King's Road in Chelsea and on the growth of their businesses as "two pounds well invested" and "loving every minute of it". Speaking to the room of exhibitors, Adrian addressed them as "the extended family, all over the world, and it's terrific".

At the end of the evening, an Honorary ABA Membership was awarded to Sheila Markham, who has dedicated her life to the book trade. Remarkably, she has interviewed over 134 members of the trade for the Bookseller Magazine since 1991, which would later be turned into a book with two editions. Sheila could not be there in person to accept the award, however Pom noted that the council "could not think of a more deserving person for an Honorary Membership at the ABA."
The 65th edition of Firsts, London's Rare Book Fair is scheduled to take place 15-18 September 2022 once again at Saatchi Gallery, with the Antiquarian Booksellers' Association's smaller Chelsea Rare Book Fair scheduled for 29-30 April 2022 at the Chelsea Old Town Hall.