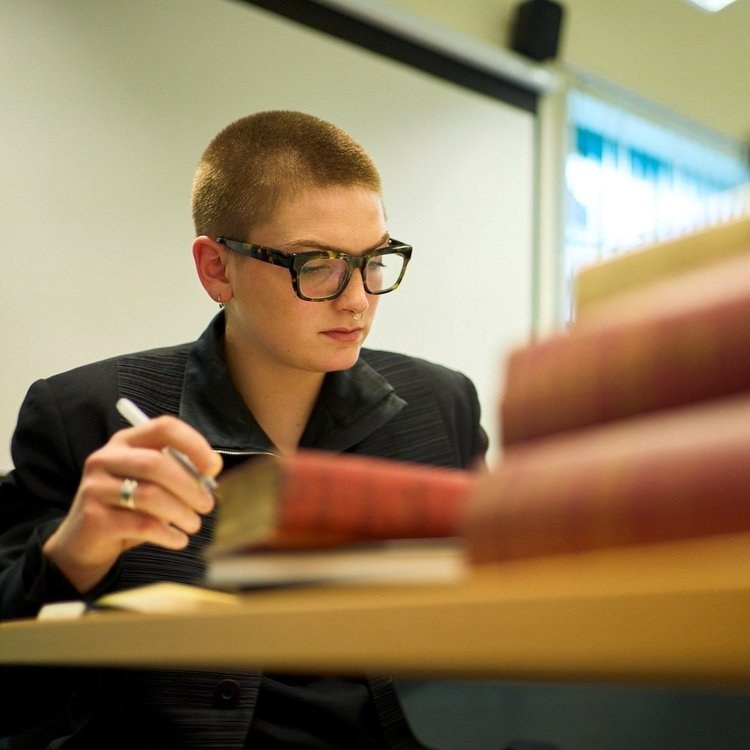 This page offers information and tips for those considering a career in the rare book trade.
The rare book trade is a fascinating and rewarding area to work in, particularly for those with an affinity with books, literature and history. As a bookseller, cataloguer, or supporting staff member, you will be in the position to handle, consult, and research an incredible wealth of rare printed and manuscript material, often of astonishing provenance. The book trade is collegiate and international, overseen by the ABA and other trade bodies which organise events and ensure excellent relationships between dealers.

Most antiquarian booksellers enter the trade by first finding work with an established dealer, library or even auctioneer. Many also feel that their opportunities for employment are enhanced by some form of preparatory academic or professional training.
Education & Courses
YABS: The York Antiquarian Book Seminar offers an opportunity for leading booksellers and librarians to share their expertise and experience with would-be and fledgling booksellers, librarians and collectors in a comprehensive survey of the second-hand, antiquarian and rare book markets. Basic procedures and problems are discussed both formally and informally through a series of lectures, discussions, and practical hands-on workshops with emphasis on cataloguing, pricing and bookselling in the wake of the pandemic. Several scholarships are available to aid with the cost of the course. Find out more.
IES Book Collecting Seminars : The ABA runs free weekly seminars on various aspects of book collecting in conjunction with the IES, which are great resources for learning more about the rare book world and meeting with experts. These seminars run in terms during the academic year. Find out more.
The M.A. in the History of the Book offered by the Institute of English Studies at the University of London which, although not formally recognised as a professional qualification (being a strictly academic rather than a practical course), would no doubt carry great weight with prospective employers.
Advice for prospective booksellers
The ABA member directory lists over 250 of the most reputable antiquarian booksellers in the UK, together with their special fields of expertise.
Prospective candidates without relevant academic qualifications are advised to do some preliminary research into the book trade. Candidates should also familiarise themselves with the basic terminology and bibliography of the antiquarian book trade; a brief but very informative introduction to this subject by Roger Gaskell can be found on Terms of the Trade section of this site. We also particularly recommend John Carter's ABC for Book Collectors, as revised by our honorary member Nicolas Barker.

Booksellers' shops and offices can be visited and many exhibit regularly at book fairs. Book fairs can be a useful experience and also provide an opportunity to meet and talk informally. There are many now well established dealers who began their careers with an informal chat. You might also consider attending book auctions (Sotheby's, Bloomsbury, etc.) to get a flavour of the work of the main auction houses.
Writing to booksellers, especially to those whose speciality is something that the candidate is particularly interested in, is the next step: remember to enclose a brief CV.

Finally, the ABA would be pleased to accept a short paragraph – written by yourself – for publication in the weekly e-mail ABA Bulletin to members, which may help you find a position.
Please outline the following:
your interest in the trade and any particular specialities you might wish to aim for
your background, both education and employment
where in the UK you would like to work, and indeed, if you would be prepared to re-locate
your full contact details
If possible, please send your paragraph by email to the ABA – secretary@aba.org.uk.
Reading list
Please note that there is nothing that can be regarded as a straight 'textbook' for antiquarian bookselling. These rather provide basic background reading about the trade, bibliography and book collecting which will be very valuable reading to anyone seriously interested in the trade.
Roger Gaskall: Terms of the Trade
Roy Davids: Coming to Terms with Manuscripts
Giles Mandelbrote - editor: Out of Print and Into Profit. 2006
Anthony Rota: Books in the Blood. 2002.
Anthony Rota: Apart from the Text. 1998.
Paul Minet: Bookdealing for Profit. 2000
John Carter: ABC for Book Collectors. 1952 (last revised edition, 2006).
Phillipa & Leo Bernard, with Angus O'Neill: Antiquarian Books: a Companion. 1994
P. H. Muir: Minding My Own Business. 1981.
Phillip Gaskell: New Introduction to Bibliography. 1972 (and later).
P. H. Muir: Book Collecting as a Hobby, Letters to Everyman and Book Collecting, More Letters. 1944-1949 (later reprinted in one volume).
John Carter: Taste and Technique in Book Collecting. 1949 (and later).
G. L. Brook: Books and Book-Collecting. 1980.
Grant Uden: Understanding Book-Collecting. 1982.
We hope you have found this information useful. Please do not hesitate to contact the ABA Office if we can help further – secretary@aba.org.uk.