James Cummins Bookseller Inc.
About James Cummins Bookseller Inc.
Founded in 1978 by James Cummins, the firm has grown to include two New Jersey locations as well as the main store at 699 Madison Avenue (between 62nd and 63rd Streets) in New York City. Hours: Monday - Friday 10:00 a.m. to 6:00 p.m. (During July & August, until 4:00 p.m. on Fridays.) The Madison Avenue store is a seventh-floor oasis for book-lovers, a quiet and pleasantly furnished book room with a carefully chosen, expertly catalogued and broad-based selection of fine and rare books, autographs, manuscripts, and works of art. We have built notable private collections for American and international clients. Our stock is always changing, and our steady input from private buying and public auctions assures our clients of new surprises (and temptations!) at each visit. Our stock covers a wide range of collecting interests, with particular emphasis in the following fields: British and American Literature, Sporting Books, Private Press and Illustrated Books, 19th-Century Color Plate Books, Americana, Travel, Sets and Fine Bindings, History, and Authors' Manuscripts and Letters. Our catalogued inventory exceeds 50,000 titles, much of which can be searched on the internet. In addition, our New Jersey warehouse contains over 400,000 books in all subject areas. We might have the books you're looking for.
Terms of Sale for James Cummins Bookseller Inc.
All items, as usual, are guaranteed as described and are returnable within 30 days if not as described. Within the United States, all books are shipped UPS unless otherwise requested (please provide a street address). Overseas orders should specify shipping preference. All postage is extra. New clients are requested to send remittance with your orders. Libraries may apply for deferred billing. All items are subject to prior sale; prices are subject to change.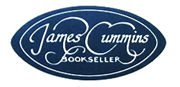 Search James Cummins Bookseller Inc.'s Inventory
James Cummins Bookseller Inc. Specialises In
American Literature
English Literature
Sporting Books
Sets
Travel
Private Press
Americana
James Cummins Bookseller Inc.
James Cummins
699 Madison Avenue
New York NY 10065
USA
Hours of Operation
Mon-Fri 10.00-6.00; Sat 10.00-5.00