Daniel Crouch Rare Books LLP
About Daniel Crouch Rare Books LLP
Daniel Crouch Rare Books is specialist dealer in antique atlases, maps, plans, sea charts and voyages dating from the fifteenth to the nineteenth centuries. Our carefully selected stock also includes a number of fine prints and globes, and a selection of cartographic reference books. Our particular passions include rare atlases, wall maps, and separately published maps and charts. We strive to acquire unusual and quirky maps that are in fine condition. We are members of the following trade associations: The Antiquarian Bookseller's Association (ABA); The British Antique Dealers' Association (BADA); Confédération Internationale des Négociantes en Oeuvres d'Art (CINOA); The International League of Antiquarian Booksellers (ILAB); The Society of London Art Dealers (SLAD); and The European Fine Art Foundation (TEFAF). Daniel and Nick are also both members of The Company of Art Scholars, Dealers, and Collectors.
Terms of Sale for Daniel Crouch Rare Books LLP
Any item may be returned if you are not happy with it providing we are notified within 7 days of your receiving it. This does not affect any statutory rights you may have under UK or EU law for returning the item outside this period. All we ask is that you return the item(s) by the same or similar method to that in which they were sent to you. Your postage costs and any payment already received will be refunded immediately on our receipt of the items in the same condition as you received them.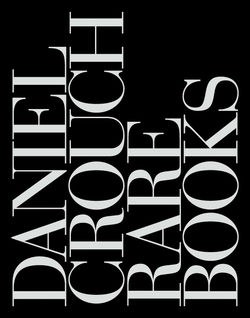 Search Daniel Crouch Rare Books LLP's Inventory
Daniel Crouch Rare Books LLP Specialises In
Maps
Atlases
Travel
Globes
Scientific instruments
Daniel Crouch Rare Books LLP
Daniel Crouch & Nick Trimming
4 Bury Street
St James's
London SW1Y 6AB
United Kingdom
Hours of Operation
Mon-Fri 10.00-6.00. 24 East 64th Street, New York, NY 10065.
Catalogues from Daniel Crouch Rare Books LLP